Visit The MAD IRISHMAN Blog @ https://irelander869603513.wordpress.com
---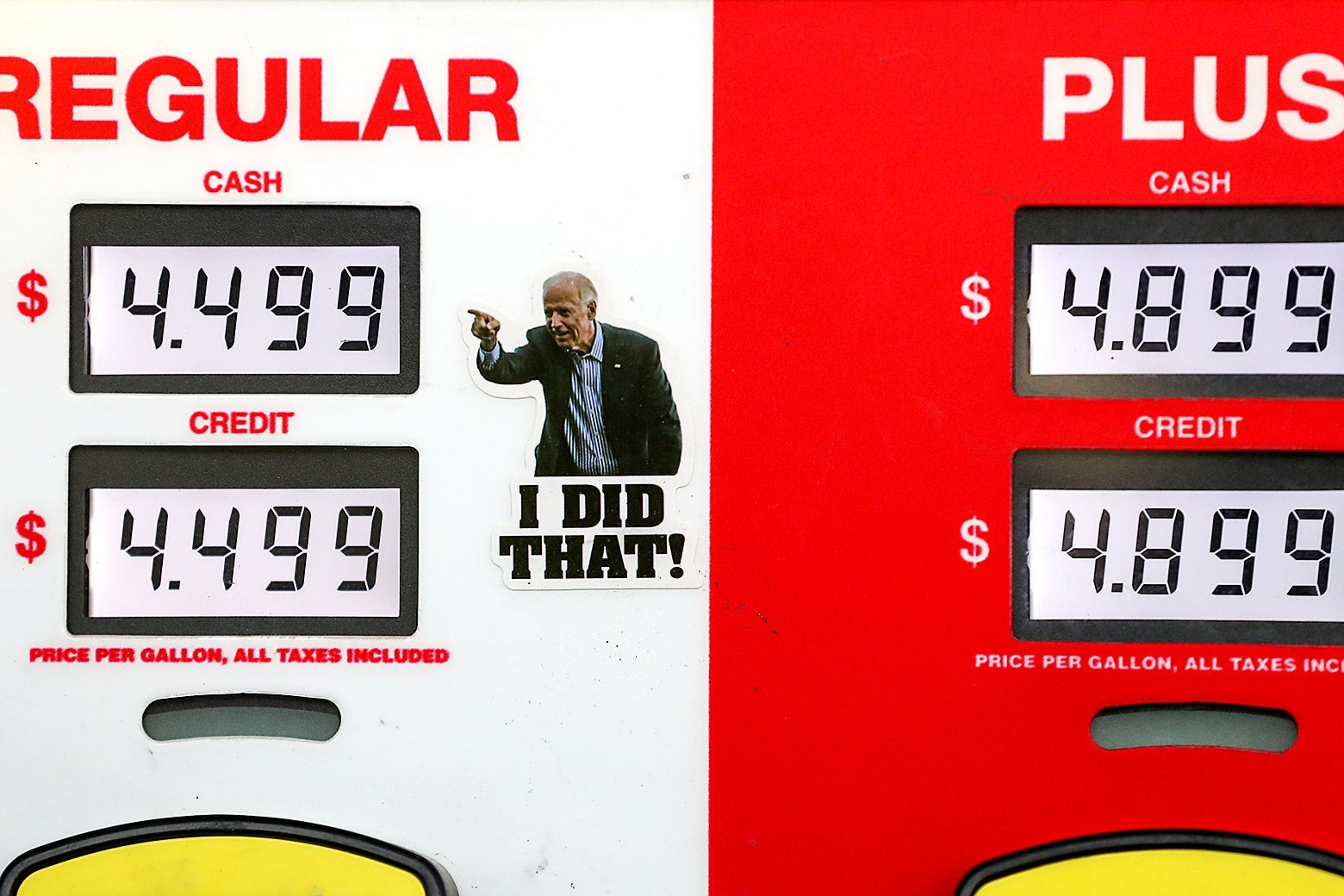 U.S. retail gasoline prices soared to another record on Monday as global refineries struggled with adding new capacity ahead of the driving season.
Before diving into Goldman Sachs' new commodity note explaining how global refining will be tight for the foreseeable future, last week, Saudi Energy Minister said, "the bottleneck is now to do with refining… many refineries in the world, especially in Europe and the US, have closed."
Goldman's commodity analyst Neil Mehta outlines a rash of refinery retirements, reduced Russian energy exports, recovering jet fuel demand, and tight global inventories for products, particularly diesel, have supported higher retail fuel prices.
Mehta points out US product inventories are below a 10% five-year average, refining utilization rates are below normal, global natural gas prices are high, and demand for diesel remains robust.
U.S. product and total inventories are well below a five-year average.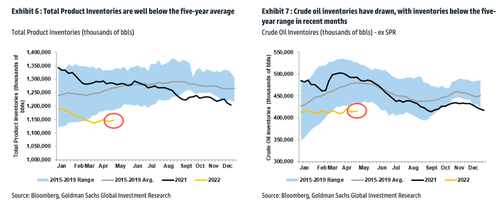 U.S. refining utilization struggles to increase as the driving season begins.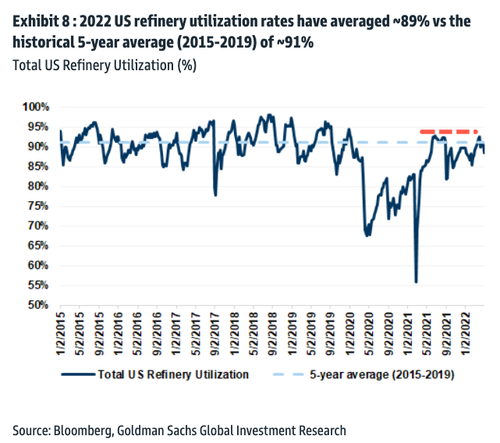 "We believe the oil market needs to price to demand destruction, which will drive the least elastic prices, such as those for distillate, higher," he said, adding tight inventories could last through this year and well into 2023…
MORE: https://www.zerohedge.com/commodities/gas-prices-hit-new-record-amid-refinery-bottlenecks-and-tight-supplies
---
Eco-activist group Greenpeace brought solar power to Dharnai, India, in 2014, constructing a green micro-grid it said would make the tiny village "energy independent" and a model for the rest of the country to follow.
Eight years later, reports indicate the solar micro-grid is not only defunct, but being used as a cattle shed. The Dharnai venture is only one of many failed attempts by environmental groups, like Greenpeace, to "green" the developing world, according to one of its co-founders.
"It's the same thing that's happened a lot across Africa: goody two-shoes comes in and builds them a small solar facility," CO2 Coalition Director Patrick Moore, who co-founded Greenpeace in the 1970s, told The Daily Caller News Foundation.
"Then, pretty soon the battery wears out and it just doesn't get repaired and they don't know what to do because they don't have any expertise," said Moore, who departed Greenpeace in the 1980s after he said the group lost touch with its original purpose. "There's plenty of those stories."
In July 2014, Greenpeace celebrated the project, claiming that it made Dharnai the first village in the state of Bihar to run entirely on solar energy. The project quickly collapsed, though, as batteries became overused, causing the entire grid to fall into disrepair, environment-focused news outlet Mongabay-India reported in December.
Today, paddy straw is piled up around the project, which is now being used to shelter cattle, according to Mongabay-India. In addition, solar panels are covered in dust and rods supporting the green tech are heavily-rusted.
"When this solar farm went defunct, it was primarily because of two reasons," Vijay Jayaraj, an India-based researcher at the environmental group Cornwall Alliance, told TheDCNF. "One is the cost of the power, and the second is reliability."…
MORE: https://dailycaller.com/2022/05/15/greenpeace-solar-farm-india-cattle-shed-renewable-energy/
---
With the release of 2,000 Mules, patriots around the country are seeing the truth about the obvious voter fraud that was caught on video at designated ballot boxes. The Mules are those who were dropping fraudulent ballots into drop boxes. We know about the ones that were recorded and who were sloppy enough to keep their phones with them as they committed systemic voter fraud.
What is overlooked by many, though, is that there is much more voter fraud evidence from the 2020 election emerging.
Patriot Joe Brandis, who has been investigating Michigan voter fraud since the 2020 election with Michigan Citizens for Election Integrity says, "this is just the tip of the iceberg of voter fraud evidence that is emerging every week, and what's about to come."
The Gateway Pundit reported on a wide variety of eyewitnesses who observed fraud just in Michigan. Many of those observers mentioned a very suspicious 3:30AM Biden Ballot Dump of votes in Detroit at the TCF Center where absentees were being counted.
The Big Steal Deniers wasted no time in supposedly 'debunking' the white van that witnesses observed on election night.
The problem with the latest Big Steal Denier narrative is, it still doesn't explain the math of the ballots that showed up in a suspicious late-night van…
MORE: https://www.thegatewaypundit.com/2022/05/2000-mules-just-tip-voter-fraud-iceberg-michigan-investigators-reveal-mountain-new-evidence-2020-election-fraud/
---
The leading Democrat candidate in the U.S. Senate race out of Pennsylvania was hospitalized late last week after suffering a stroke.
John Fetterman, who is currently the state's lieutenant governor, made the revelation in a statement that he released on Sunday afternoon.
"On Friday, I wasn't feeling well, so I went to the hospital to get checked out," he said. "I didn't want to go – I didn't think I had to – but Gisele insisted, and as usual, she was right."
"I hadn't been feeling well, but was so focused on the campaign that I ignored the signs and just kept going," he continued. "On Friday it finally caught up with me. I had a stroke that was caused by a clot from my heart being in an A-fib rhythm for too long. Fortunately, Gisele spotted the symptoms and got me to the hospital within minutes."
"The amazing doctors here were able to quickly and completely remove the clot, reversing the stroke, they got my heart under control as well," he concluded. "It's a good reminder to listen to your body and be aware of the signs."
The statement did not reveal whether or not he was still in the hospital.
Fetterman has a commanding lead over his next closest Democrat challenger in the race.
On the Republican side, candidates Dr. Mehmet Oz and former hedge fund executive David McCormick are in a tight race for the nomination.
Fetterman holds far-left views on subjects like abortion, where he has stated that he does not believe that there should be any limits on abortion…
MORE: https://www.dailywire.com/news/breaking-top-democrat-in-u-s-senate-race-in-pennsylvania-hospitalized-after-suffering-stroke
---
Chinese President Xi Jinping is reportedly suffering from a brain aneurysm as public rage builds against his repressive and draconian COVID policies.
The 68-year-old dictator is allegedly eschewing major surgery, preferring to be treated instead with traditional medicine. He suffered from the aneurysm toward the end of 2021, and his health is still in jeopardy.
Health issues are far from the only problem that Xi is facing. There is also a reported coup in the works because of the authoritarianism implemented by Xi in response to recent COVID flare-ups.
Richard McGregor, who authored The Party: The Secret World of China's Communist Rulers, said that Xi is facing pushback from his opponents in the politburo like Premier Li Keqiang, who has bemoaned the "complicated and grave" economic situation in China caused by Xi's lockdown policies.
"It is probably a stretch to say that Xi and Li are personally at loggerheads, but their statements do represent divergent views within the system on Covid and its impact," McGregor said.
"China is reaching the point where the need for a genuine debate about whether the price being paid for further lockdowns is worth the economic damage," he added.
Big League Politics has reported on how China's brutal COVID policies have earned the praise of the infamous and diabolical American Mengele, Dr. Anthony Fauci:
"National Institute of Allergy and Infectious Diseases director Dr. Anthony Fauci has admitted that lockdown policies are used to compel forced vaccination policies.
Fauci made the comments after praising China's Draconian policies during a recent appearance on MSNBC...
MORE: https://bigleaguepolitics.com/report-chinese-dictator-xi-jinping-is-suffering-from-brain-aneurysm/
---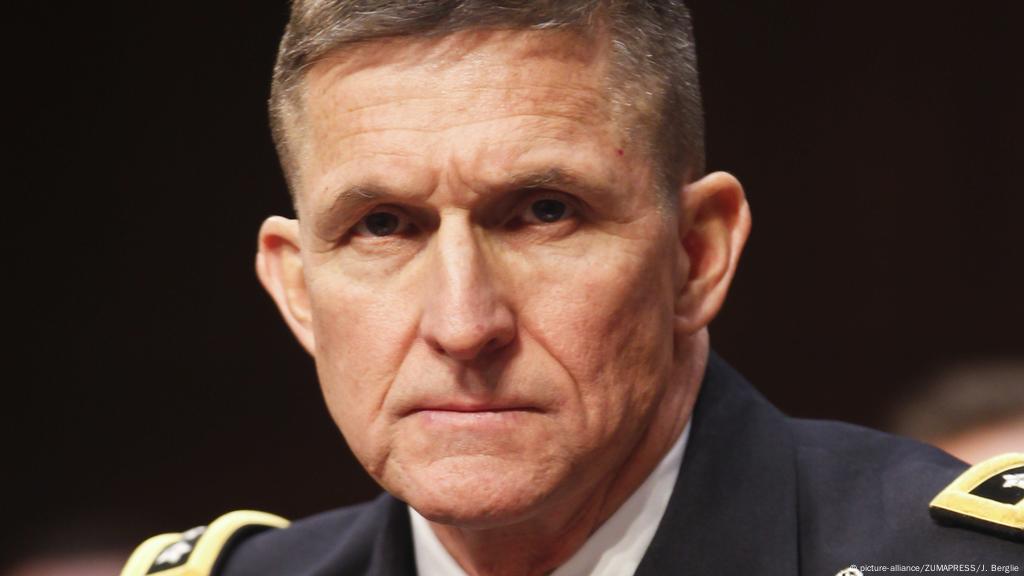 In a prelude to a formal lawsuit, former Trump National Security Advisor Michael Flynn has quietly filed a $50 million claim against the FBI and Justice Department for "malicious prosecution" related to the now-discredited Russia collusion investigation.
The notification, known as a Form 95 Civil Claim, obtained by Just the News, was filed Feb. 22. It names the DOJ, FBI, U.S. Attorney's Office in Washington D.C., Special Counsel Robert Mueller's office and the Executive Office of the President as potential defendants and alleges former President Barack Obama and the FBI had a vendetta against him that biased their actions.
"Of all of President Trump's appointees, the Obama White House hated Flynn the most," the filing noted as it laid out a long list of irregularities in his case it said proved political interference inside the FBI.
Beginning in July 2016, "the FBI began to express disdain for candidate Donald J. Trump and began to consider ways in which it could hamper Donald Trump as candidate or as President, were he to win the 2016 election," the filing alleges.
"As part of these efforts, the FBI began to target Flynn," it claims. "Flynn was no stranger to the FBI and its leadership, many of whom considered Flynn to be a personal enemy of the FBI and the success of their own FBI careers."
Flynn, according to the form, is seeking "compensatory damages including but not limited to lost past and future earnings/revenue, emotional distress, lost opportunity to be President's National Security Advisor, significant restraints of personal liberty, attorney fees/expenses and court costs in defending against malicious prosecution, abuse of process, false arrest."
In a supplemental filing accompanying the notification, Flynn and his lawyer Jesse Binnall make a detailed claim that the there was a "political motivation" behind the the prosecution of the former Trump adviser on a charge of lying to the FBI…
MORE: https://justthenews.com/accountability/russia-and-ukraine-scandals/michael-flynn-files-50-million-claim-against-feds
---
The Canadian high court handed down a ruling on Friday that criminal defendants may argue that they were so drunk as to be in a state of "automatism" and therefore not responsiblefor some violent crimes, including assault and sexual assault.
Canada had a law that barred defendants from using the extreme intoxication defense. Passed after a particularly heinous rape in 1994 of a 65-year-old wheelchair-bound woman by a man claiming to be extremely intoxicated, the defense attorney argued that the defendant was incapable of acting voluntarily or possessing the guilty mind needed for conviction. The high court agreed, and the automatism defense was established.
But in 1995, Parliament passed a law barring the accused from using that defense. It stood until Friday when the court reinstated the defense.
The Supreme Court ruled Friday that the law "undermines many of the core beliefs used to structure our system of criminal law." It said Parliament could still pass laws in the area in a way that would "trench less on the rights of the accused," including by creating a stand-alone offense of criminal intoxication.

The ruling concerned cases from Ontario and Alberta.

The Alberta case involved Matthew Winston Brown, who had several mixed drinks, a few beers and some magic mushrooms at a party. He broke into two homes and assaulted the occupant of one. An Alberta trial court found the law unconstitutional andacquitted him, but a provincial appeals court disagreed.
The presumption of innocence is one thing. That's been enshrined in Anglo-Saxon law for 800 years since the Magna Carta was signed.
But there's nothing in that ancient and honorable document or any other document saying that there's a presumption of belief – that a criminal must be believed when he claims to be so inebriated that he's incapable of recalling the specifics of his crime.
But don't tell that to our Canadian cousins…
MORE: https://pjmedia.com/news-and-politics/rick-moran/2022/05/14/canada-will-now-allow-extreme-drunkenness-as-a-defense-in-assault-cases-n1597902
---
Russian President Vladimir Putin is "very ill with blood cancer," an oligarch close to the Kremlin said in a secret recording obtained by New Lines Magazine.
The type of cancer was unspecified, New Lines reported in a story discussing myriad rumors about Putin's health.
"The recording represents rare testimony by someone with proven ties to the Russian government that its fanatical dictator may well be seriously unwell," the magazine stated of the comments made during a mid-March discussion with someone described as a "Western venture capitalist."
"He absolutely ruined Russia's economy, Ukraine's economy and many other economies – ruined [them] absolutely," the unnamed oligarch said of Putin on the tape. "The problem is with his head…. One crazy guy can turn the world upside down."
The man is an energy tycoon who is currently outside of Russia with a net worth that puts him on the list of the 200 richest Russian businessmen. He can be heard on the tape vehemently criticizing the invasion of Ukraine and questioning the purpose of more than 15,000 Russian soliders' deaths.
And he says "we all hope" Putin dies from his cancer or possibly from some intervention such as a coup, to spare Russia from further misfortune.
The oligarch "had no idea he was being recorded," on the 11-minute tape, New Lines said, adding that it identified the man by his voice but withheld his name "because of the high probability disclosing it would lead to state retaliation," noting Russia's law that imposes 15 years in prison for spreading "fake news."
It noted that Roman Abramovich, owner of the Chelsea Football Club in London, may have been poisoned in March amid his efforts to negotiate a peace deal with Ukraine and said eight other oligarchs "have turned up dead since January," including two purported to have murdered their wives and children before committing suicide, one in Spain and one in Moscow.
Ukraine's head of military intelligence also claimed Putin has cancer and suggested that a coup to remove the Russian leader is already underway…
MORE: https://nypost.com/2022/05/14/russias-vladimir-putin-ill-with-blood-cancer-secret-recording/
---
Finland will apply for membership in NATO, the country's president said Sunday, in a historic move for the Nordic country, which has had a decades-long policy of military neutrality.
In a press conference alongside Prime Minister Sanna Marin, President Sauli Niinisto said: "Today, we, the president and the government's foreign policy committee, have together decided that Finland … will apply for NATO membership."
He added that being a member of the military alliance will "maximize" Finland's security after Russia's unprecedented invasion of Ukraine in February.
Marin described that move to apply as an "important decision" based on a "strong mandate."
"We hope that the parliament will confirm the decision to apply for NATO membership during the coming days," she added. The formal application is expected to be submitted next week.
Marin said Finland has been in close contact with NATO and its members over the decision. Last week, Marin and Niinisto said the country should apply to join NATO "without delay."
'Radical change' in policy
Finland shares an 830-mile border with Russia; if it joins the military alliance, the land border that Russia shares with NATO territories would roughly double.
As such, there is a risk the move from Helsinki could spark aggression from Russia, where President Vladimir Putin has repeatedly expressed his opposition to NATO's enlargement.
Finland's Niinisto said he spoke to Putin on Saturday and informed him of his country's decision…
MORE: https://www.cnbc.com/2022/05/15/finland-will-apply-for-nato-membership-president-says.html
---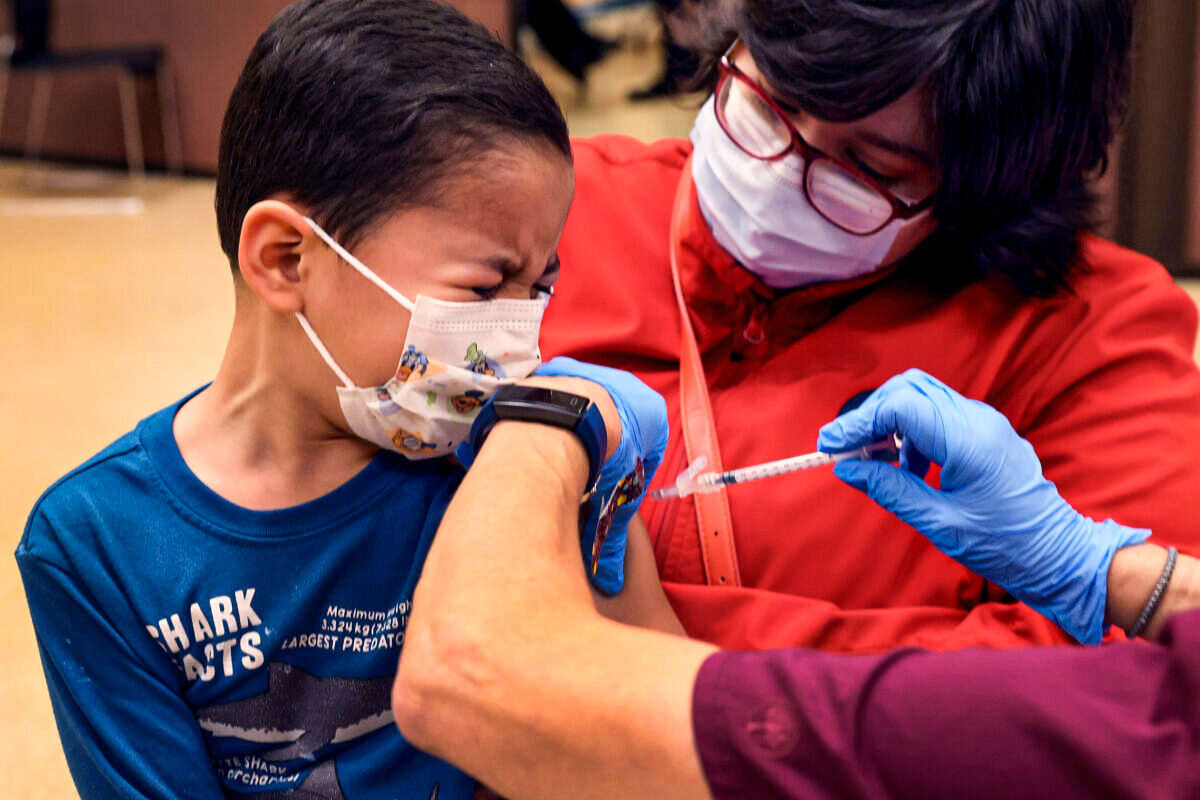 Former Pfizer VP Michael Yeadon maintains that since the infection fatality ratio of COVID-19 has not been high, the vaccines should not have been mandated.
Moreover, he heavily blasted the corporate media mantras that designate these as safe, effective, and necessary to end the CCP (Chinese Communist Party) virus pandemic.
Yeadon is a big pharma veteran with 32 years in the industry. He worked as the head of allergy and respiratory research at Pfizer from 1995 to 2011 and is the former founder and CEO of Ziarco, a biotech company acquired by Novartis. Furthermore, he has a doctorate in respiratory pharmacology and holds a Double First Class Honors degree in biochemistry and toxicology.
A shocking 1,223 deaths and 42,086 adverse events were reported to Pfizer from the first day of the Pfizer-BioNTech vaccine rollout on Dec. 1, 2020, to Feb. 28, 2021.
"The worst flu season over the last decade is worse than [the threat] posed by this new virus," Yeadon told The Epoch Times via email.
"And what do we do in response to seasonal influenza? Well, nothing really, beyond offering – and not mandating – vaccines which aren't much use."
Of important note is that the exact number of fatalities in China, where the virus originated, has been suppressed by the communist regime and could be 366 times the official figure.
Yeadon said that being sure the vaccines would cause no harm in the long run should have been imperative.
"It was never appropriate to attempt to 'end the pandemic' with a novel technology vaccine. In a public health mass intervention, safety is the top priority, more so even than effectiveness, because so many people will receive it," Yeadon states in a document he sent to The Epoch Times…
MORE: https://www.theepochtimes.com/people-who-pushed-idea-of-universal-vaccination-are-guilty-of-crimes-against-humanity-former-pfizer-vp_4462787.html
---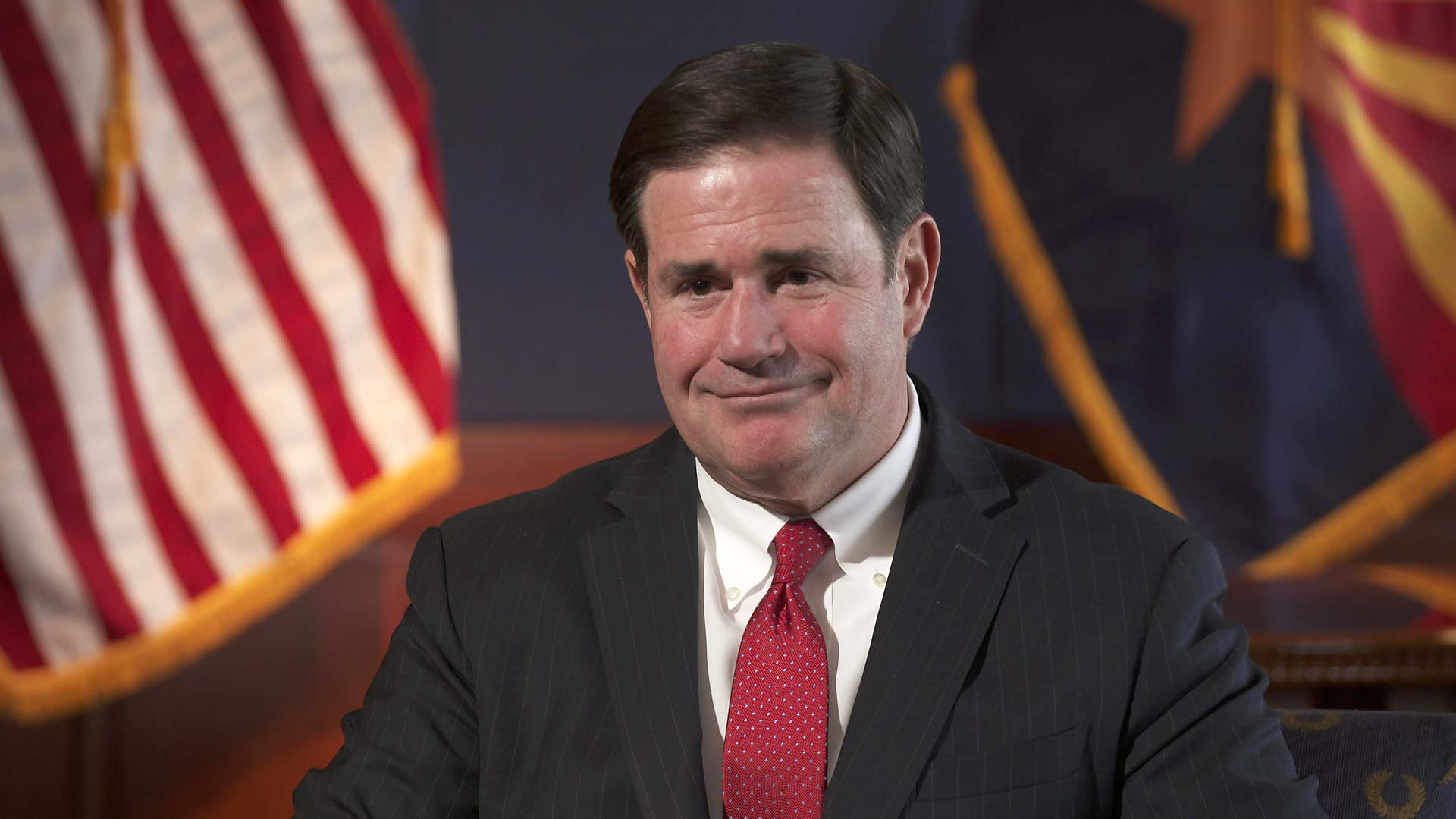 Arizona Republican Gov. Doug Ducey has started busing migrants from the border to Washington, D.C., and he hopes fake President Joe Biden will eventually pay for the effort.
One bus had already arrived in Washington and another was on its way as migrants continue to pour over the Arizona border in anticipation of Title 42's expected end, Ducey spokesman C.J. Karamargin told The Daily Caller News Foundation. Ducey intends to bill the Biden administration for the program.
"This is a problem caused by Washington. So we are bringing it to Washington. This is the flow of asylum seekers, migrants entering into the United States or coming into our or entering through Arizona because it's easy and bearing the burden for this is our communities. Like folks in Yuma, where hospitals, community organizations, nongovernmental organizations are being strained tremendously. So, the goal here is to alleviate the burden for Arizonans," Karamargin told TheDCNF.
"The funds will be coming out of our border states border security fund, but we will be sending the bill to Washington. They caused it, they should pay for it," he added.
20 migrants were on the first bus that arrived Wednesday and 40 were on the second bus, Karamargin said. Each bus can accommodate 40 migrants.
The migrants volunteered to take the buses as another option to get to the east coast, according to Karamargin. They are permitted to exit the buses in other states where the buses stop to refuel and change drivers.
Ducey's office is working with nongovernmental organizations in the Washington area to help the migrants once they get to the nation's capital.
Ducey's announcement follows Texas Gov. Greg Abbott's ongoing effort to bus migrants to Washington, which started in April…
MORE:https://dailycaller.com/2022/05/12/arizona-dc-ducey-migrants-border/
---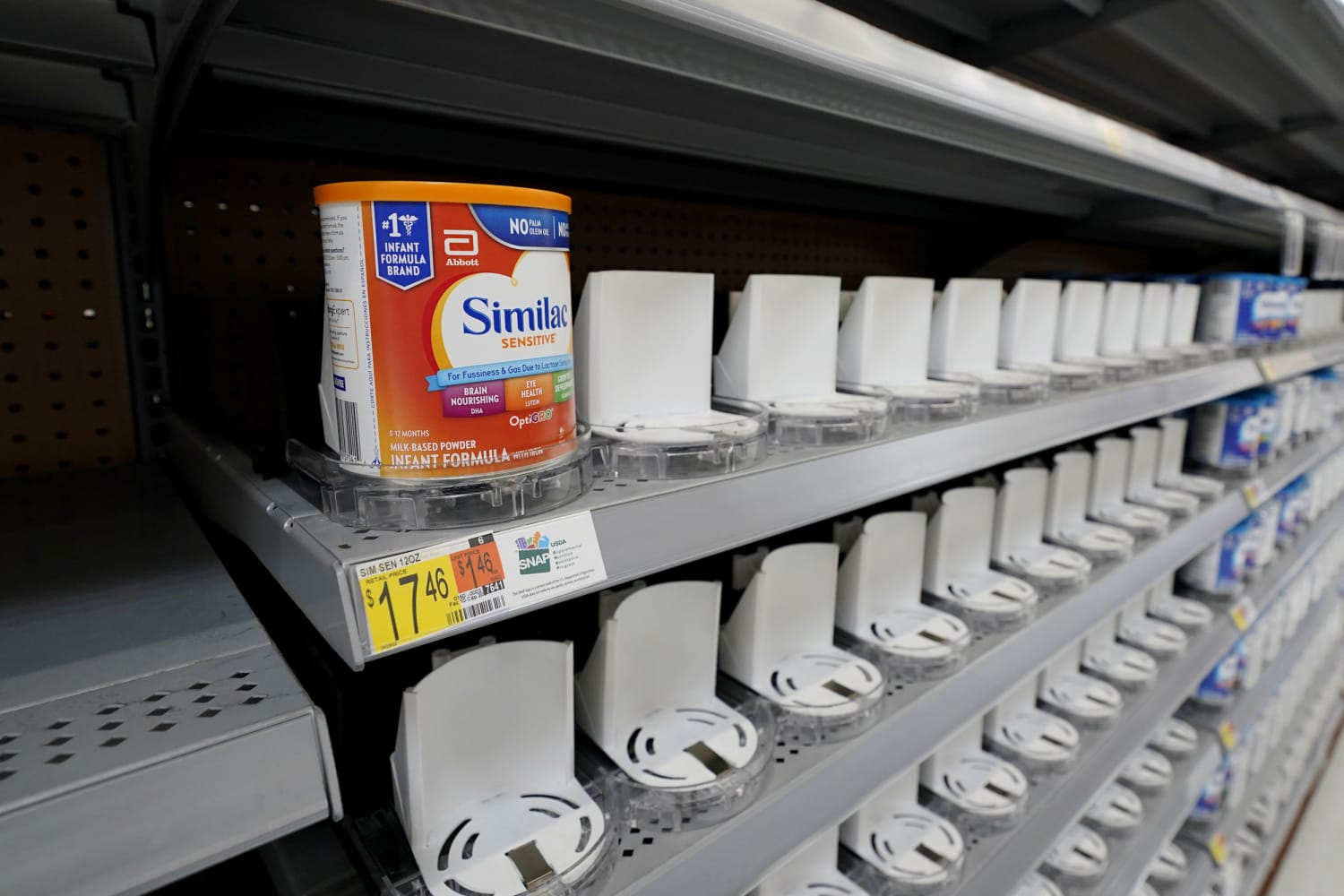 The nationwide shortage of baby formula is turning into a much bigger story than Democrats want it to be. Why? Because while they want Americans to focus on issues like abortion, mothers are desperately rushing from store to store to find the food for their babies they urgently need.
Now, moms have the right to be more furious than ever, as the Biden administration is apparently shipping "pallets" of baby formula to migrant holding facilities according to Republican Rep. Kat Cammack, a Florida lawmaker.
"They're receiving pallets and more pallets of baby formula at the border," Cammack said. "Meanwhile, in our own district at home, we cannot find baby formula."
The lawmaker then shared that a border agent of 30-years told her, "'Kat, you would not believe the shipment I just brought in.'" She also notes that this agent "has been a border patrol agent for 30 years and he has never seen anything quite like this. He is a grandfather and he is saying that his own children can't get baby formula."
Cammack, along with other Republicans, has been rightfully critical of the Biden administration and media for failing to address or provide solutions for the shortage of baby formula across the nation. Claiming that this latest development only proves this administration continues to put "America last" in all of its decision making and polices.
Cammack, of course, is not critical of migrants receiving baby formula. But she is calling out the Biden administration for its reluctance to help struggling American parents.
"I don't know about you, but if I am a mother, anywhere anytime in America, and I go to my local Walmart or Target or Publix or Safeway or Kroger or wherever it may be that you shop and you are seeing their shelves and you are seeing signs that you are not able to get baby formula," she said.
"And then you see the American government sending by the pallet thousands and thousands of containers of baby formula to the border, that would make my blood boil," she added…
MORE: https://bigleaguepolitics.com/america-last-again-as-illegal-migrants-get-pallets-of-baby-formula-amid-shortage/
---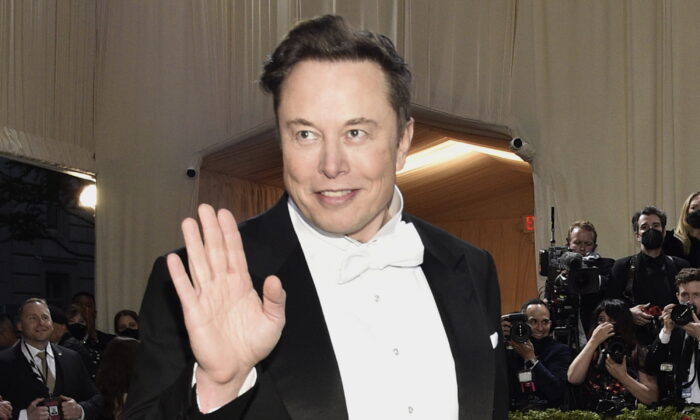 Billionaire tech mogul Elon Musk said that the deal to buy Twitter is "temporarily on hold" until detailed information comes to light that backs Twitter's claim that bots or fake accounts make up fewer than 5 percent of users on the platform.
"Twitter deal temporarily on hold pending details supporting calculation that spam/fake accounts do indeed represent less than 5 percent of users," Musk wrote in a tweet.
In his missive, Musk linked to a Reuters report from early May stating that Twitter had estimated in a filing that false or spam accounts represented fewer than 5 percent of its monetizable daily active users during the first quarter.
Twitter said in the April 28 filing (pdf) that "there are a number of false or spam accounts in existence on our platform."
"We have performed an internal review of a sample of accounts and estimate that the average of false or spam accounts during the first quarter of 2022 represented fewer than 5 percent of our mDAU [monetizable daily active users] during the quarter," the company added.
Twitter's disclosure came days after Musk said one of his priorities would be to remove "spam bots" from the platform, which he has offered to buy for around $44 billion.
The Epoch Times has reached out to Twitter for comment.
Musk's announcement was met with a mixed response by Twitter users, with economist Peter Schiff seeing it as proof that Musk "never actually intended to buy Twitter" and that he was "bluffing the entire time," while trader Sven Henrich, who has been critical of fake accounts on the platform, gave Musk's message a thumbs up, saying, "due diligence is always worthwhile."
Musk has said that, if his bid to buy Twitter is successful, he intends to authenticate all real humans on the platform…
MORE: https://www.theepochtimes.com/musk-says-twitter-deal-on-hold-over-spam-bots_4464621.html
---
The groomer teachers just will not stop trying to indoctrinate your kids into the rainbow cult behind your back. It's amazing to me that they object to the term "groomer" and then actively plot to have secrets with children about sexuality. It is the definition of "grooming." Christina Buttons, who calls herself a "reformed SJW," has footage of a leaked Zoom call between teachers that was organized by GenderInClassrooms.com. This website purports to be "created by teachers for teachers" and "dedicated to equipping educators with the tools they need to foster safe, welcoming gender-inclusive classrooms."
One of the things that the Gender Woo-Woo cult likes to do is create Gay/Straight Alliance clubs in school that sound like support groups but are actually Gender Woo-Woo indoctrination clubs. This is where kids will be told that girls can be boys, pronouns like "fish-self" are valid identities, and genital mutilation surgery and drugs are the answer to gender dysphoria. And they know they're being deceptive because they say it outright. In the following clip, the website's co-founder Kieren Slattery says, "Something I do say to students and caregivers, though I mostly say it to students … I don't ever tell anyone else who came [to gay club], so I would never tell their adults or other students in the school or even other teachers."
"Kieren's" voice, which I first thought was augmented or sped up, is the dead giveaway. Though Kieren goes by "he/him" according to "he/his" bio, I'm reasonably certain he/him is a she/her. Because of that, I won't be calling he/him by preferred pronouns. Especially when Kieren's goal is to teach other teachers how to hide important information about children from their parents. Fight me.
The second clip shows the pink-haired fella discussing how he hides his gay club from parents. "The only formal communication that we've sent home was to 4th- and 5th-grade students," he said. "It wasn't a permission slip; it was something that was a one-way communication about our club." That doesn't sound too bad until he admits that he made the announcement intentionally vague in order not to raise any concerns from parents. "We intentionally left it broad in that it was a club about acceptance, tolerance, diversity, and identity," he said. But that's not what the clubs are about. They are about affirming magical gender identity and leading your child down the path to medicalization and a lifetime of pain and dependence on Big Pharma…
MORE: https://pjmedia.com/news-and-politics/megan-fox/2022/05/12/the-first-rule-of-gay-club-is-you-do-not-talk-about-gay-club-groomer-teachers-plot-on-zoom-n1597324
---
The sheriff's office of an Arizona county highlighted in Dinesh D'Souza's "2000 Mules" documentary on alleged ballot harvesting and trafficking in the 2020 presidential election announced Wednesday it has teamed up with the county recorder to investigate 2020 election fraud.
The Yuma County Sheriff's Office announced Wednesday that as of March, it has 16 open voter fraud cases.https://justthenews.com/politics-policy/elections/2000-mules-exposes-ballot-harvesting-yuma-county-sheriff-announces-voter
The Sheriff's Office and the Recorder's Office "are working together to actively examine cases of voting fraud from the 2020 General Election and now a recent pattern of fraudulent voter registration forms leading up to the 2022 Primary Election," according to the YCSO.
"Some examples of voter fraud Yuma County is currently seeing," the sheriff reports, "are the following:
Impersonation fraud: Voting in the name of other legitimate voters and voters who have died or moved away.
False registrations: Falsifying voter registrations by either using a real or fake name, birth date, or address. This is being done by outreach groups who are paid for each registration form they submit, therefore, are out soliciting voters into unnecessarily re-registering or falsifying forms with Yuma County [residents'] identities.
Duplicate voting: Submitting multiple votes or registering in multiple locations and voting in the same election in more than one jurisdiction or state.
Fraudulent use of absentee ballots: Requesting absentee ballots and voting without the knowledge of the actual voter; or obtaining the absentee ballot from a voter and either filling it in directly and forging the voter's signature or illegally telling the voter who to vote for."
Released last week, "2000 Mules" relies on geotracking data and video surveillance footage obtained by election integrity watchdog True the Vote purporting to show hundreds of "mules" stuffing drop boxes with absentee ballots during odd hours in battleground states.
True the Vote founder Catherine Engelbrecht said in a statement Thursday: "We are extremely encouraged that the Yuma County Sheriff's Office and Recorder's Office are now working together to investigate individuals involved in the subversion of elections…
MORE: https://justthenews.com/politics-policy/elections/2000-mules-exposes-ballot-harvesting-yuma-county-sheriff-announces-voter
---
A former director of data science at Thomson Reuters said he was fired for sharing research on the company's internal social media platform that showed police killed more unarmed white people than black people and that the Black Lives Matter movement allegedly caused the deaths of thousands.
Zac Kriegman, who worked at Thomson Reuters for six years before being fired last summer, claimed he was let go from his $350,000 job because he stood against the company's reporting conventions on BLM in order to dispel what the 'false narrative' that black people were the largest victim of police violence.
In a piece first published on Bari Weiss's Substack, Common Sense, Kriegman said he shared with collogues concerns that reports saying unarmed black people are killed by police at a disproportionately higher rate than their white counterparts was not accurate.
The Washington Post, which has led the effort to document fatal police shootings, found that police had killed 3,024 white people and 1,596 black people since 2015.
The findings highlight that black people were disproportionately affected by the shootings as they make up only 13 percent of the U.S. population, but Kriegman said the rhetoric was incomplete and when he tried proving it, he said he received backlash from fellow white co-workers.
'I was publicly derided as a 'troll,' 'confused,' 'laughable,' and 'not worth engaging with or even attempting to have an intelligent conversation' with,' Kriegman wrote.
Thomson Reuters said it does not discuss specific employee issues and that 'Reuters, the news division of Thomson Reuters, reports on topics related to race and equality and the BLM organization in a fair, unbiased and independent manner, consistent with the Thomson Reuters Trust Principles'.
Kriegman had argued that rather at looking at the population as a whole to see who was truly more impacted by police violence, reporters needed to instead take into account what racial groups police felt more threatened from.
To this end, Kriegman cited the FBI's research into the racial demographics of those who had killed or assault police officers…
MORE: https://www.dailymail.co.uk/news/article-10810363/White-Reuters-data-scientist-said-FIRED-woke-BLM-bullies-newswire.html
---
The Federal Bureau of Investigation opened several investigations into parents protesting policies in their local school boards, labeling them with a threat tag the FBI's Counterterrorism Division created, according to House Republicans.
Republicans of the House Judiciary Committee published their findings in a letter Republican House Judiciary Committee Ranking Member Rep. Jim Jordan of Ohio sent Wednesday to Attorney General Merrick Garland. The findings were made with the help of information from whistleblowers.
The letter presented information suggesting that the FBI "labeled at least dozens of investigations into parents with a threat tag created by the FBI's Counterterrorism Division to assess and track investigations related to school boards."
According to the letter, the cases the FBI monitored and tagged with the new threat tag – EDUOFFICIALS – included those of "parents upset about mask mandates and state elected officials who publicly voiced opposition to vaccine mandate."
Jordan pointed out that the findings made by the Republicans of the House Judiciary Committee ran contrary to Garland's sworn testimony before the committee.
According to the letter, in the committee hearing, Garland "denied that the Department of Justice or its components were using counterterrorism statutes and resources to target parents at school board meetings."
"We have learned from brave whistleblowers that the FBI has opened investigations with the EDUOFFICIALS threat tag in almost every region of the country and relating to all types of educational settings," the representative from Ohio wrote.
"The information we have received shows how, as a direct result of your directive, federal law enforcement is using counterterrorism resources to investigate protected First Amendment activity."…
MORE: https://ijr.com/house-republicans-reveal-smoking-gun-relating-fbis-parents/
---
When you go woke, you run the risk of going broke, and apparently, Netflix is pulling the ripcord before the streaming giant good and fully faceplants.
Following a financial report that saw its stock price plummet 37 percent in late April, Netflix is now moving to adjust its culture and reengage its frustrated audience. A new "culture memo" dealing with "artistic expression" has been sent out, and it's clearly a shot at the woke staffers who have been sandbagging the company.
Excerpts come via The Daily Wire.
"If you'd find it hard to support our content breadth, Netflix may not be the best place for you," the memo states, later adding that employees may be required to work on projects that they "perceive to be harmful" and that if they have a hard time accepting their work assignment, they might want to consider working somewhere else.

"Entertaining the world is an amazing opportunity and also a challenge because viewers have very different tastes and points of view. So we offer a wide variety of TV shows and movies, some of which can be provocative," the new section reads, later adding, "we support the artistic expression of the creators we choose to work with" and that "we let viewers decide what's appropriate for them, versus having Netflix censor specific artists or voices."
Most of this appears to center on the controversy over a comedy special by Dave Chappelle that Netflix put out. In it, he made a few relatively mundane transgender jokes. Of course, he also made Jewish jokes and took a variety of other shots are other demographics. That's what comedy is, and the idea that certain groups are off-limits is not something Chappelle is ever going to abide by.
But the trans jokes led to a "trans walkout" and other protestations from Netflix employees. At the time, the CEO came out and defended Chappelle before bending the knee, attempting to coddle the woke employees that were lashing out by seeking an ill-advised middle ground. Once that financial collapse happened, though, it looks like a sudden change in direction happened. You can imagine that the board of directors and the shareholders were none too happy with seeing their company burn to the ground in order to make a small minority of far-left activists happy…
MORE: https://redstate.com/bonchie/2022/05/13/netflix-goes-scorched-earth-on-woke-employees-n563990
---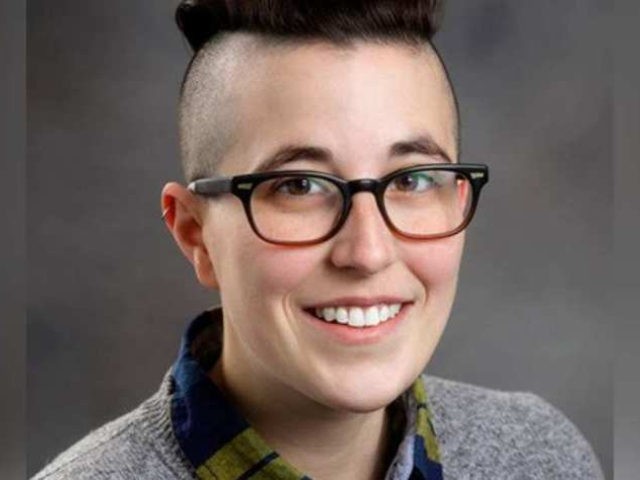 Johns Hopkins Moore Center for the Prevention of Child Sexual Abuse has hired a former Old Dominion University professor who was put on leave after claiming that sexual attraction to children is not always immoral, and that he wants to destigmatize pedophiles by referring to them as "minor-attracted persons" (MAPs), instead.
"We are excited to share that Allyn Walker, PhD, will be joining the Moore Center as a postdoctoral fellow on May 25," the Moore Center for the Prevention of Child Sexual Abuse announced on Thursday.
The Johns Hopkins University center aims to prevent child sexual abuse, and to advance that mission has hired hired Allyn Walker, who, ironically, is trying to coin the term "minor-attracted persons" in the place of "pedophiles," and wrote a book, titled, A Long Dark Shadow: Minor-Attracted People and Their Pursuit of Dignity.
In a video that surfaced late last year, Walker explained that she uses the term "Minor-Attracted Person" or "MAP" when referring to pedophiles throughout her book, "because I think it's important to use terminology for groups that members of that group want others to use for them."
Watch Below:
The professor added that "MAP advocacy groups" have advocated for use of the term "primarily because it's less stigmatizing than other terms like, 'pedophile.'"
"A lot of people, when they hear the term pedophile, they automatically assume that it means a sex offender, and that isn't true. And it leads to a lot of misconceptions about attractions toward minors," Walker added…
MORE: https://www.breitbart.com/tech/2022/05/13/johns-hopkins-center-against-child-sexual-abuse-hires-professor-who-defended-pedophiles/
---
The California Senate passed SB866, a bill that would remove parental consent for teens to get vaccinated. The bill now heads to the State Assembly. One Americas Stella Escobedo caught up with Sharon McKeeman of Let Them Breathe who said the bill is radical.
Stella Escobedo: In states like California, there's still a big push to vaccinate everyone. Just today, California's Senate… they passed a bill – 866, Senate Bill 866, It passed in the Senate. The bill would allow teens to get vaccinated without their parent's consent. Now, the bill is now headed to the assembly and then possibly the governor's desk. I want to bring in a mother who's been fighting for children's rights in the state of California, Sharon McKeeman, founder of Let Them Breathe. Sharon, welcome.

Sharon McKeeman: Thanks so much. It's great to see you.

Stella Escobedo: Thanks for being here, Sharon. So, a 12-year-old will potentially be able to make a big decision without their parent's consent. A few people in Sacramento, they get to tell us parents, they get to tell the parents how to parent their children, essentially.

Sharon McKeeman: Yes. This bill is so extreme. And I think there are a lot of parents in shock right now that it has actually passed the Senate floor. It just has that final hurdle of passing the assembly, before then, it could be signed into law by the governor. And so far, what we've seen is that, unfortunately, I don't think Governor Newsom would have any problem signing an extreme bill like this into law.
And if this were to pass, I think that there's going to be a mass exodus from the public school system, because what we're seeing is families that are incredibly concerned and outraged that this responsibility would be put on their children's shoulders, this decision making, instead of staying within the family unit. Especially during a time there's been so much disinformation, so much uncertainty. We're finding out the vaccine is far less effective than it was said to be…
MORE: https://www.oann.com/calif-senate-passes-bill-removing-parental-consent-for-12-year-olds-to-get-vaccinated/
---
California Gov. Gavin Newsom (D) announced plans Wednesday to spend an additional $57 million on abortions for uninsured, out-of-state residents who travel to the state to have abortions because of restrictions on abortion in their own states.
The announcement brings Newsom's proposed spending on out-of-state abortion tourism to $125 million, over and above what he proposed in January. The new spending comes ahead of an anticipated decision by the U.S. Supreme Court to overturn Roe v. Wade, the controversial 1973 ruling that established a "right" to abortion. A leaked majority opinion by Justice Samuel Alito in the case of Dobbs v. Jackson Women's Health Organization would return authority over abortion to the separate states.
Upon news of the probable decision, Gov. Newsom vowed to build a "firewall" around the state to protect abortion, proposing an amendment to the state constitution granting the right to an abortion to replace the federal one.
On Wednesday, he added that the state would spend on abortions for uninsured visitors, as well as on a "California Reproductive Justice & Freedom Fund" for pro-abortion community organizations, a "Reproductive Rights" website, and research on the "unmet needs for reproductive health care services."
Newsom also proposed a package of business incentives to encourage companies to relocate to California to take advantage of the state's liberal abortion laws.
"By updating existing business incentive programs to provide additional consideration for companies leaving states that have enacted restrictions on reproductive rights and anti-LGBTQ+ laws, Governor Newsom is welcoming companies that share California's values and doubling down on the diversity that makes our economy a global leader," a statement from Newsom's office said…
MORE: https://www.breitbart.com/politics/2022/05/12/gavin-newsom-california-taxpayers-to-subsidize-abortion-tourism/